Worm

Type:
Critter
Mobile?
No
Edible?
Yes
Special level:
None
Worms are a type of critter in Dino Run. They can be eaten as food for your dinosaur, which they are always found tunneling in the ground.
The player can earn trophies for eating a certain amount of worms.
| Stage | Picture | Earned by |
| --- | --- | --- |
| Bronze | | Eating a total of 10 worms. |
| Silver | | Eating a total of 25 worms. |
| Gold | | Eating a total of 50 worms. |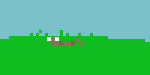 If you pause the game, the worms will keep tunneling. If you wait for them to expose themselves, you can eat more worms.
Ad blocker interference detected!
Wikia is a free-to-use site that makes money from advertising. We have a modified experience for viewers using ad blockers

Wikia is not accessible if you've made further modifications. Remove the custom ad blocker rule(s) and the page will load as expected.