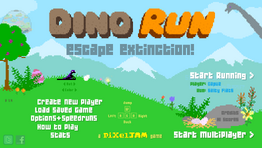 The title menu is, obviously, your singleplayer hub. You can start runs by simply pressing the "Start Running" option, check your stats, access the shop, change the design of your dino, and more.
Unlockables
Edit
This is a list of what you can unlock for the main menu (They will unlock even when cheats are on):
Egg: Complete Easy Mode
Tree and flowers: Complete Medium Mode
Nest with eggs: Complete Hard Mode
UFO: Complete INSANE Mode
Brachiosaurus: From doing a certain amount of Speed Runs.
Striped Egg: ??? (May be from collecting all the Super Eggs.)
Ad blocker interference detected!
Wikia is a free-to-use site that makes money from advertising. We have a modified experience for viewers using ad blockers

Wikia is not accessible if you've made further modifications. Remove the custom ad blocker rule(s) and the page will load as expected.