If you press 2, a question mark will appear above
your Dino's
head.
Unlike the Exclamation Mark, this will ONLY appear if you actually press a key.

The question mark was created in the Syriac language around the fifth century. It became widely used in Europe in the eighth century. In the

middle ages, it transformed into a lowercase q above a lowercase o. It
was not until the eighteenth century that the modern symbol began to be used.
Besides Dino Run, question marks are used in games such as chess and Scrabble.
How it Was Inspired For Dino Run
Edit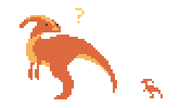 The question mark idea came from the creator of the Dino Run dinosaurs Rich Grillotti. It was created to give the dinos more emotion along with the Exclamation Mark. Edit
Ad blocker interference detected!
Wikia is a free-to-use site that makes money from advertising. We have a modified experience for viewers using ad blockers

Wikia is not accessible if you've made further modifications. Remove the custom ad blocker rule(s) and the page will load as expected.