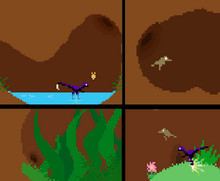 Food delivery holes are holes where lizards or Runners spawn in for your dino to eat.They often appear on ledges and several plants grow on them. Food delivery holes are only found in sanctuaries. In the hard sanctuaries, you can climb into a couple of holes.
Ad blocker interference detected!
Wikia is a free-to-use site that makes money from advertising. We have a modified experience for viewers using ad blockers

Wikia is not accessible if you've made further modifications. Remove the custom ad blocker rule(s) and the page will load as expected.