Dino Run SE is, effectively, a sort of deluxe edition of Dino run. SE, despite common belief, stands for Slightly Evolved and not Super Edition. It includes new hats, speedruns, gamemodes, colours, levels, and has a few neat functions such as full-screen mode,also they have multiplayer that have 4 servers. Dino Central. Stoneville. BoneDocks. and Paradise. It was released in 2010.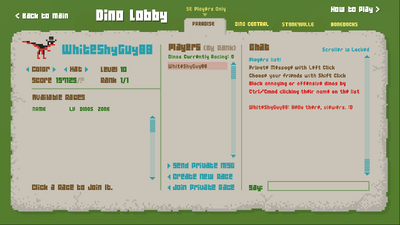 new dino run se
Ad blocker interference detected!
Wikia is a free-to-use site that makes money from advertising. We have a modified experience for viewers using ad blockers

Wikia is not accessible if you've made further modifications. Remove the custom ad blocker rule(s) and the page will load as expected.